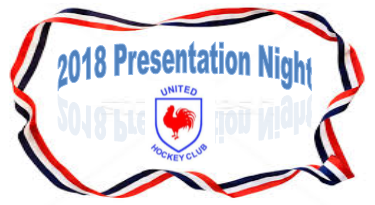 Thanks to everyone that came and celebrated the United Hockey Clubs achievements over the 2018 Winter Hockey Season.  A special congratulations to Luke Mackinnon and Cam Smith on receiving their life member badges in front of many other life members in attendance.
Below are the 2018 award recipients:
Best and Fairest:
CL1 Men – Harry Deane   CL1 Women – Sally Pratley
CL2 Men – Aaron Hopkins   CL2 Women – Kirsten Taylor
SL1 Men – Brad Huxley    SL1 Women – Isabella Gillespie
SL2 Men – Corey Watson   SL2 Women – Ally Joiner   SL3 Women – Vanessa Prescott
Best Junior in Men's Grade – Charlie Absolom
Best Junior in Women's Grade – Olivia Holgate
Andrew Deane Junior Development Award – Mark Haines
Women's Junior Development Award – Mollie Thomas
Most Improved Player Men's – Caleb Druhan
Beth Smith Memorial Award for Most Improved Player Women's – Ella Ruiz
Club Striker of the Year – Cameron Smith
Club Defender of the Year – Emma Taylor
Male Goalkeeper of the Year – Brendan Hill
Megan van Duuren Trophy for Female Goalkeeper of the Year – Kirsten Taylor
Chris MacKinnon Umpire Award – Michael Christoff
John Nicholas Award for Senior contributing the most to junior development – Casey Rawson-Donnelly
Terry Nichols Memorial Award for Highly Valued Family Contribution – Burnett Family Sarah Burnett Molly Burnett Charlotte Burnett
Ewan & Thelma MacKinnon Award for Most Valued Club Person – Caitlin James
Richard Cranium Award – Nick Reid
Hacker Award – Nick Hancock
Congratulations!